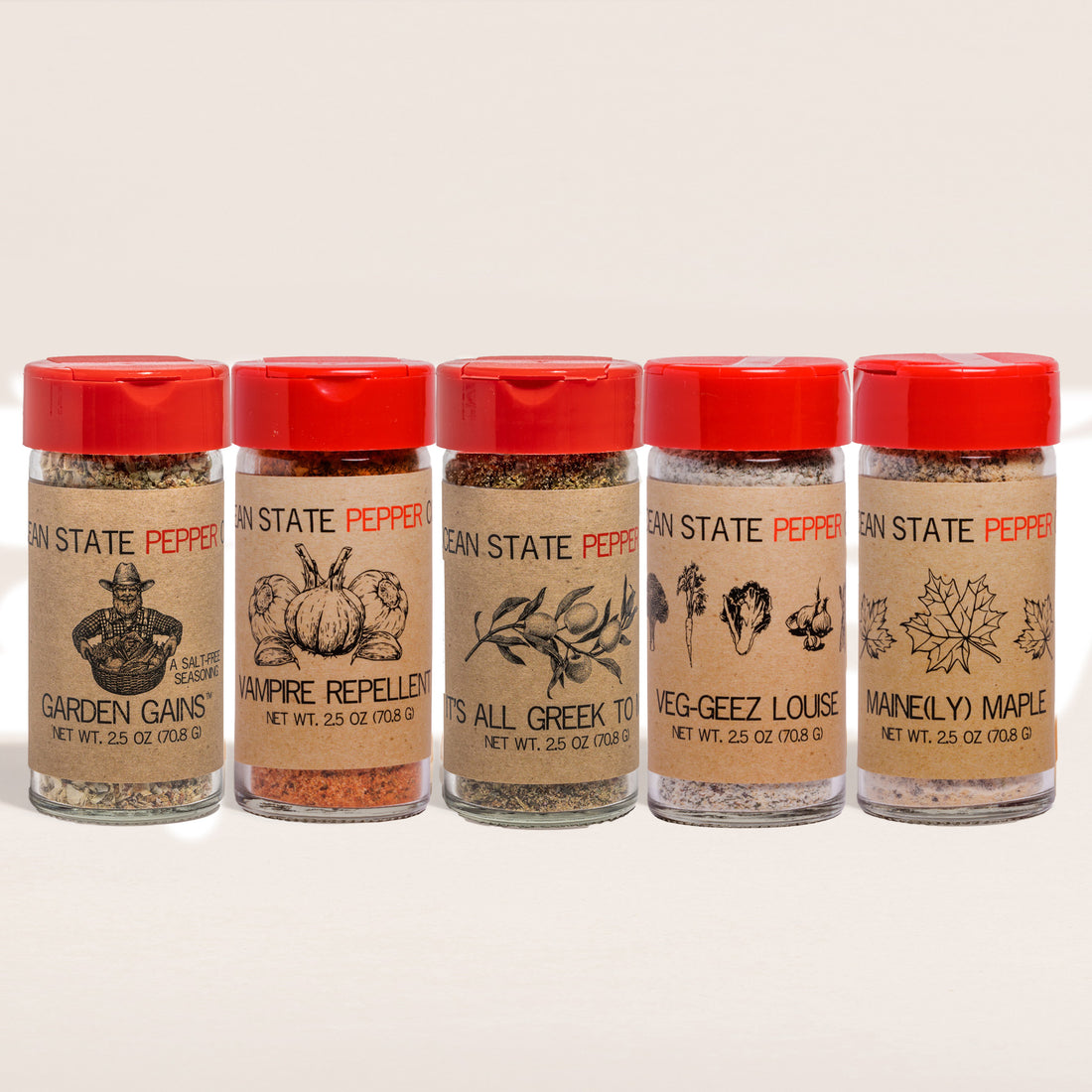 The Ultimate Plant-Based First-Aid Kit
Continuing to pledge our promise of making cooking easy, we are happy to introduce the OSPC Veggie Lover's seasoning gift set. This kit is packed with our top five favorite seasonings to feature on all things vegetarian! Delivered in a branded OSPC box, this is a quick and easy gift for the veggie fanatic in your life. Heck, grab two... it's always nice to reward yourself. Check out the direct links below to learn more about each product included.
What's in the BOX???
Maine(ly) Maple: Take a trip to the north woods with the flavors of thyme and powdered lemon juice tastefully blended with cracked black pepper, sea salt, and pure 100% Maine sourced maple sugar. A perfect mix of sweet and salty, you can use this on just about anything.
It's All Greek To Me:

 We bring classic flavors of the Mediterranean to life with this savory blend of herbs, garlic, citrus, chilies, and of course...olives. Finished with red wine vinegar and tomato, this seasoning is an instant hit and a fan favorite.

Garden Gains: A Veggie Lover Box Exclusive! We brought back our salt-free all purpose seasoning. Bright, herbal, and savory. Perfect for soups, dressings, veggies, and much more! Perfect for salt restrictive diets. 
Veg-Geez Louise: We haven't really found anything you can't put this on. We made a simple concoction of sea salt, coarse black pepper, onion and garlic, that we brightened up with lemon powder, lime zest, and a few simple herbs. Nothing crazy, that's why it works so well. Just get rid of your salt and pepper shaker...you won't need them. 
Vampire Repellent: Easily ward off any sort of vampire attack, or add a delicious punch of roasted California garlic to your next home cooked adventure. This blend is a must have for any garlic lover and features a great balance of garlic (obviously), with locally grown lemon thyme, marjoram, and of course, organic ground chilies. 
Taste the OSPC Difference
Sustainable packaging.
Refillable glass jars help keep plastic out of our landfills and oceans.
Make It Rain.
Low in salt, and full of flavor...go ahead and pour it on.
Allergen Friendly.
Seasonings with clean and creative flavors for everyone.
Rapid results.
Saving on time and never having to sacrifice flavor, that's a win.