There a lots of variations of this soup. We tend to stay away from the sweet style of butternut squash soup and steer towards a more savory flavor profile. We hope you enjoy this recipe as much as we do.
Ingredients:
1lb diced Butternut Squash
3 Carrots, chopped
2 Sprigs of Thyme
1 Fuji Apple, peeled cored and diced
1/2 Large red onion, diced
1 to 2 Tbl Maine(ly) Maple
2 tsp Salt
1 tsp Suave Agave
1 Quart Chicken or Vegetable Stock
1/4c Heavy cream
Preparation:
1
In a medium sauce pan or dutch oven, combine all ingredients but cream. Cover with stock and bring to a simmer over low-medium heat. Cook this mixture over low heat for about 25-30 minutes. 
2
Strain vegetables along with some of the liquid into a food processor, or vitamix.  Puree the mixture, adding more liquid from pan if needed to ensure a good blend. 
3
Return puree to remaining liquid in the pot.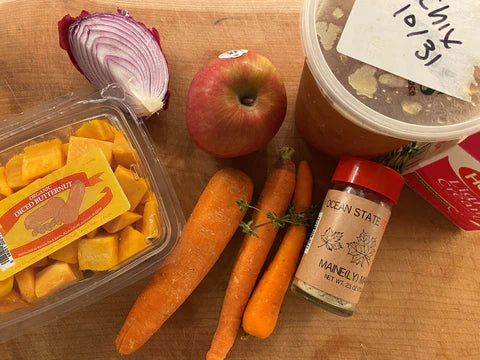 4
Bring back to a simmer and adjust seasonings to your liking. Finish with cream, Enjoy!