As winter approaches we are all looking for those warm your soul type of meals. We created an easy and delicious beef stew for you. We hope this inspires you to get creative with our Secret Weapon Burger Seasoning. It can be used in so many different ways!
Ingredients:
2 Large Carrots peeled and large diced
2.5lbs chuck roast trimmed and cut into large pieces
8oz peeled pearl onions 
4oz shiitake mushrooms, sliced
1lb baby red potatoes
24oz beef stock
3 Tbls Gluten free flour, dissolved in 1/3 cup water
1 pack Secret Weapon Burger Seasoning
Directions:
1
Preheat oven to 400 degrees.
2
In a Dutch Oven over medium heat, brown the beef in batches with vegetable oil. Set the beef aside on a plate.
3
Add carrots, onions and mushrooms to the same pot and cook until lightly brown in beef drippings, about 5 minutes. Pour red wine into the dutch oven to deglaze the pan. Reduce to a simmer.
5
Stir in beef stock, then add potatoes and browned beef to the dutch oven.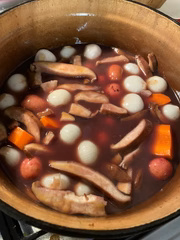 5
Stir in the entire pack ofSecret Weapon Burger Seasoning into pot.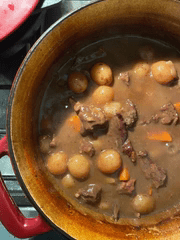 6
Cover and roast in a preheated 400 degree oven for 3 hours. While the beef stew is roasting you can prepare a bread bowl if you are really feeling wild.
7
When the stew comes out of the oven, stir in the flour/water mixture and return to a low burner on the stovetop until the finished product is thickened. Remove from heat and serve.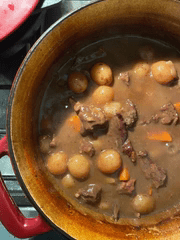 8
 Enjoy for many days or freeze a little for a rainy day.