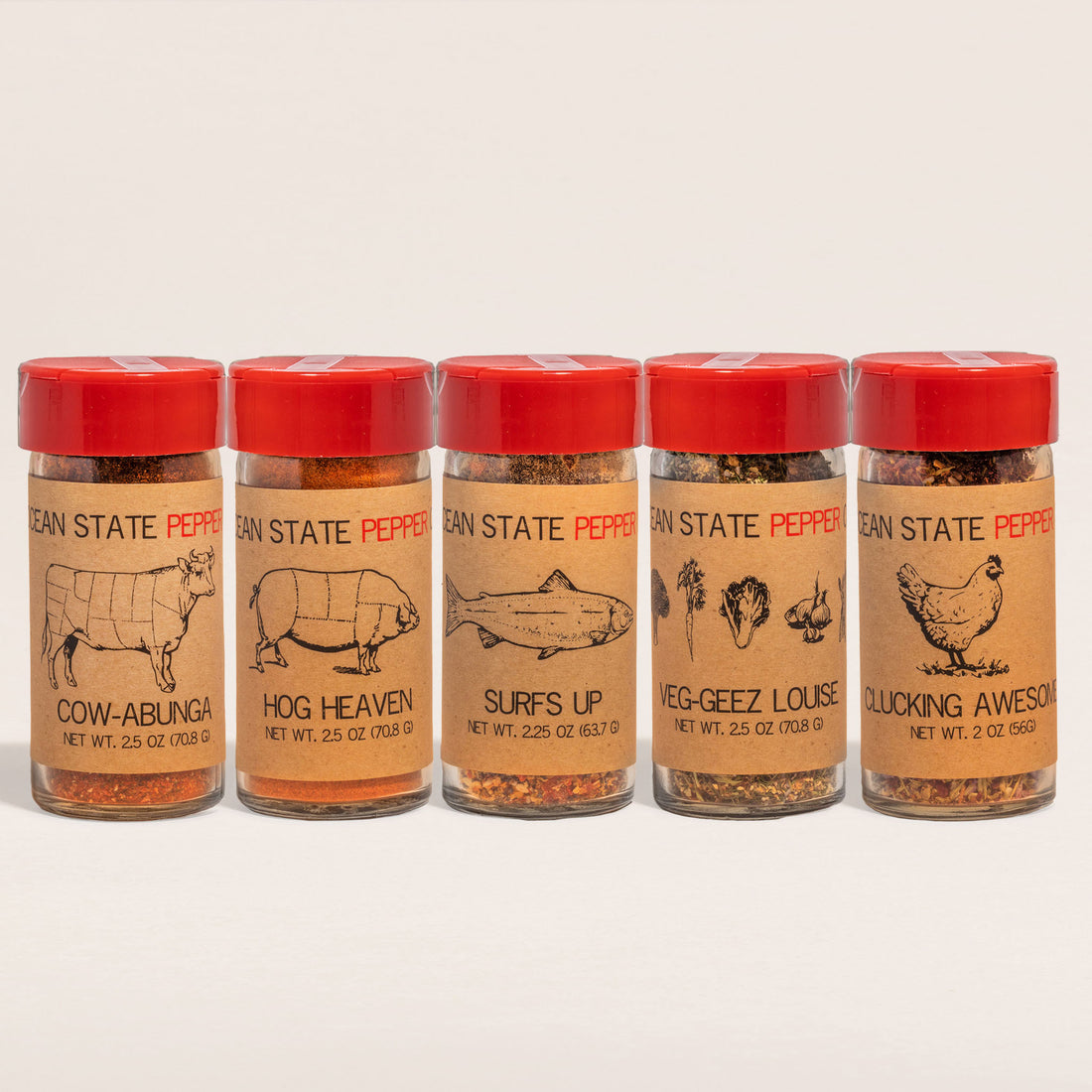 Give the gift of flavor!
Our OSPC gift set is the perfect starter kit for the seasoned chef to the amateur enthusiast. We have included a hand-blended gourmet seasoning for every application: Beef, Chicken, Pork, Fish, and Veggies. All uniquely crafted, and easily cross-utilized with a little creativity. This set is a winner for any holiday or special occasion. Check out our products page for other easy gift ideas or stocking stuffers, straight from the Ocean State. Refresh Your Spice Rack!
Go ahead and treat yourself. You deserve it. With our five favorite blends inside, there is a perfect seasoning for anything you may be cooking. All these extremely versatile blends were crafted with simplicity and creativity in mind, making cooking at home that much easier...not to mention fun! Check the dates on the spices in your current cabinet, then go ahead and throw them away. Start fresh with some fun flavors, you'll be super happy that you did.
Ingredients and Details:
This signature blend is loaded with an arsenal of meat-friendly flavors. Coarse ground sea salt and cracked black pepper are blended with onion, garlic, Worcestershire powder, and savory herbs. Trinidad scorpion pepper gives this rub some backbone, while activated charcoal powder brings out that 'off the grill' flavor...even while cooking on a gas grill, or in the oven.
Ingredients: Paprika, sea salt, black pepper, granulated onion, granulated garlic, dill, horseradish, Worcestershire powder, charcoal powder, jalapeno pepper, scorpion pepper
A unique all-purpose poultry seasoning for chefs and home cooks alike. Crafted with sumac, a blend of herbs, floral lavender, a touch of scorpion pepper and lime zest, it adds bold flavor to poultry dishes without overpowering them. It's the perfect balance of zesty spice and subtle citrus notes, all wrapped up in a Mediterranean flavor profile.
Ingredients: Sumac, thyme, oregano, sesame seed, sea salt, lime peel, culinary lavender, black pepper, scorpion pepper
Southwest BBQ flavors inspired by New England. Smoked paprika, ancho chile, cumin and jalapeno blend with organic Maine-produced maple sugar, and thyme. Sweet and spicy notes blended with powdered white vinegar, sea salt, and black pepper to create a harmonious balance.
Ingredients: Paprika, granulated garlic, ancho chile, cumin, maple sugar, sea salt, brown mustard powder, black pepper, oregano, thyme, jalapeno pepper, white vinegar powder
The perfect combination of herbs and spices to season any dish. Our blend of sea salt and pepper, combined with bright notes of citrus, savory onion and garlic, and a fresh blend of herbs make it tangy and delicious...not to mention, extremely versatile. Add the perfect flavor to your meals with Veg-geez Louise! Just get rid of your salt and pepper shaker...you won't need them. 
Ingredients: Lemon powder, black pepper, lime zest, granulated onion, granulated garlic, sea salt, dill, basil, thyme
East meets West with this Japanese-inspired seafood seasoning. This blend is loaded with flavors of bright citrus blended with roasted sesame seeds, Birds eye chili flakes, garlic, and poppy seeds. Roasted local seaweed gives this seafood blend a savory flavor reminiscent of the Ocean State. Great on all types of seafood, be it grilled, broiled, sautéed, or even fried!
Ingredients: Black pepper, orange peel, lime peel, chili flakes, minced garlic, seaweed, poppy seed, sesame seed, lemon juice powder, sea salt, ginger
CONTAINS: SESAME
Taste the OSPC Difference
Sustainable packaging.
Refillable glass jars help keep plastic out of our landfills and oceans.
Make It Rain.
Low in salt, and full of flavor...go ahead and pour it on.
Allergen Friendly.
Seasonings with clean and creative flavors for everyone.
Rapid results.
Saving on time and never having to sacrifice flavor, that's a win.