Cheesy Artichoke and Crab dip
Quick story, one Sunday we were trying to figure out one dip we were going to bring to our friends' house for football. There are so many options and we wanted to do something different so we settled on artichoke and crab. We think you'll love it....if you're into crab.
Ingredients:
8 oz cream cheese softened
1/2 cup mayonnaise
14 oz artichoke hearts, chopped
1/2lb canned crab meat
1/4 cup parmesan cheese
1/2 red bell pepper, diced
2 scallions, chopped
1 Tbl Narragansett Bay seasoning
Juice of 1/2 lime
1/2 tsp Worcestershire sauce
Directions:
1
Preheat oven to 350 degrees.
2
Open and drain crab meat. Set aside.
3
In a large bowl, combine cream cheese, mayo and half the parmesan and stir together.
4
Add onion, pepper, scallion along with lime juice and worcestershire sauce to cream cheese mixture. Mix well to combine.
5
Fold in crab meat and artichokes along with Narragansett Bay until evenly blended.
6
Pour mixture into a greased (medium) casserole dish. Add remaining parmesan to top of dip. 
7
Cover and bake for 20 minutes then uncover and broil until cheese is melted and bubbly.
8
Serve with your favorite crackers or chips. We thought it was fantastic with corn chips.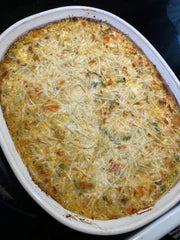 9
Check out our instagram to see how we made it. @oceanstatepepperco