Back in the kitchen tonight, and we are coming at you with a absolutely wonderful version of a low country classic...shrimp and grits. For the most part, this recipe stays true to its roots, but with a few tweaks here and there which I thought really worked wonders. Truth be told, I am not particularly a fan of grits on their own...and I usually migrate towards a creamy polenta, but this dish needs that hominy to get things going, and with a gift of stoneground grits from a friend who visited Charleston, it was clearly an easy decision.
A few things I may note before getting going on the recipe:
     -Avoid 'quick grits' whenever possible, true flavors take time to develop.
     -If possible, choose a domestic white shrimp over any tiger shrimp. They have a superior flavor...and the harvesting/raising of them take place in much safer locations. Remember, you get what you pay for.
     -Plan ahead: a solid 4-6 hours of marinating the shrimp makes a world of difference. 
On with it already! 
Begin with a marinade for your shrimp:
7 cloves garlic, minced
1 small onion, chopped fine
1 fresno chile, chopped fine (sub jalapeno, Anaheim, etc.)
1 ea lime, juiced
2 oz olive oil
1 1/2 T suave agave rub 
1
Mix the marinate together in a small bowl, and to it add 1 lb. of domestic white shrimp. Refrigerate for at least 4 hours, mixing occasionally.
2
When it's time to start cooking, begin with the grits, since this will take 45 minutes to finish up, the shrimp can be started about halfway through the cooking process.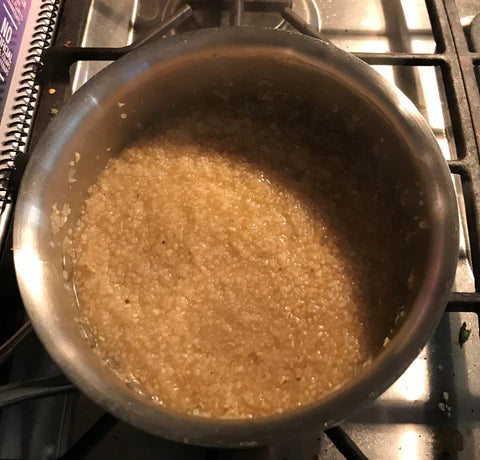 3
For the grits:
1c     Stone ground grits
1qt    Vegetable stock
1/2c  Cheddar cheese
1t     Salt
2T     Butter
4
Combine the grits and 2 cups of veg stock in a medium sauce pan over low heat. Bring to a simmer, and cook slowly, covered, for about 15 minutes. Uncover the grits at this point, and add another 1/2 cup of veg stock. Continue stirring occasionally, making sure the grits aren't sticking to the bottom of the pan. During the whole process, eventually the entire quart of stock will be absorbed by the hominy. When 45 minutes has past, taste the grits to make sure they are tender, and finish with salt, butter, and cheddar cheese. Stir slowly to combine all the cheese and allow to rest a few minutes before service.
5
For the shrimp:
1#  White gulf shrimp (in marinade)
1oz   Olive oil
1/2ea   Red onion, chopped
1ea   Sweet red pepper (I used aji santa cruz)
10ea   Cherry tomatoes, split in half
1/2c   Corn
 
5
In a heavy cast iron skillet, bring olive oil to almost smoking over medium-high heat. Scrape the marinade off the shrimp, being sure to reserve all the marinade to use later. Place shrimp in the hot skillet and allow to brown on one side completely before turning.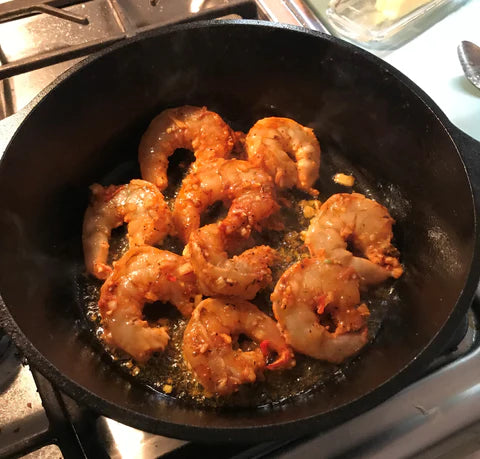 6
Once you have seared both sides of the shrimp, add the reserved marinade to the pan, and cook until fragrant, about 2 minutes. Next, add the tomatoes and lower the heat. This will allow the tomatoes to cook out and naturally create a sauce that will simmer with the shrimp.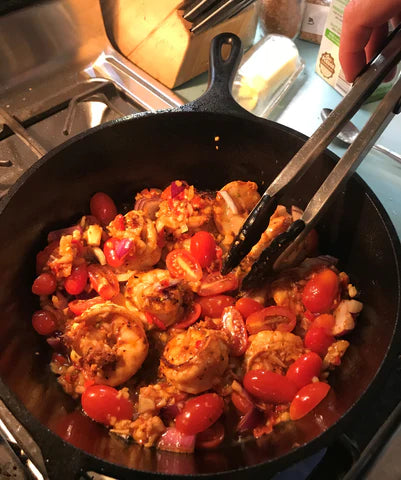 7
Add the corn, reduce heat to low and allow the pan to stew out for about 20 minutes. If you were wondering, this is why we start the shrimp halfway through cooking the grits, so the whole meal comes together perfectly at the end of the cook time.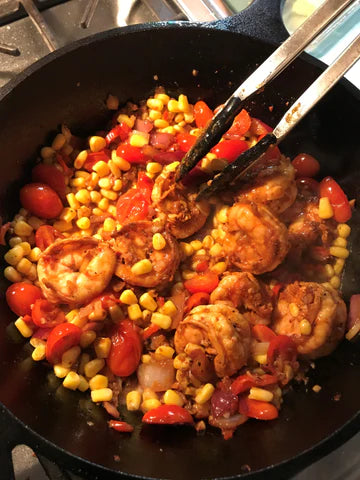 10
This was the final product, about an hour later. Notice how it makes a wonderful pan sauce for you to enjoy over a bowl of cheesy grits. Give this one a try, even if it may be outside the box as far as your tastes are concerned. Truthfully there were no leftovers...