Rhode Island Littleneck Stew
One of my favorite benefits of living in the Ocean State, the abundance of fresh seafood at our fingertips. Today's post is a quick and delicious recipe featuring some native littleneck clams, in a bright and aromatic tomato-saffron broth. Loaded with fresh vegetables and chicken sausage, this dish is a quick anytime meal that pairs well with a mixed greens salad, basmati rice, or my go-to, a fresh crusty loaf of Italian bread...
 You can easily substitute mussels, shrimp, swordfish, etc. and get the same results, or put a medley of seafood together and serve a bowl of cioppino. Call it whatever you'd like...it's just good.
Littleneck Stew: Serves 2
Ingredients
1 dozen     Littleneck clams (or mussels, etc.)
1 link      Italian style chicken sausage
1 oz     Quality olive oil
3 clove     Garlic, chopped
1 each     Red onion, diced
1/2 each     Red bell pepper, diced
1/2 bulb     Fennel, sliced thinly
1 cup     Marinara sauce
1/4 cup     white wine
pinch     Saffron
1 Tbl     U Wanna Pizza Me? Italian seasoning
Preparation
1
In a high-walled saute pan, or a dutch oven, heat olive oil over medium flame until shimmering. Add garlic and onions, saute until aromatic. Add sausage and continue to brown with the onions for another minute or two. Add the peppers and fennel, again stirring frequently, about another minute.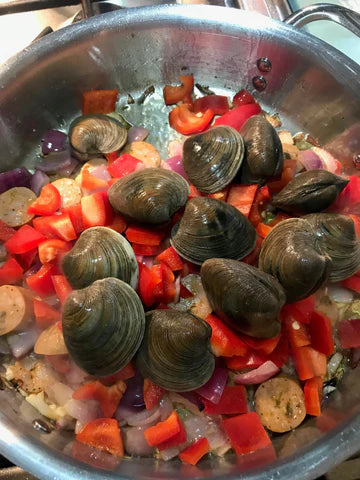 2
Add your clams, saffron and seasoning, followed by the white wine. Careful as the pan is hot, it's going to create some steam...don't worry, we want this. Additionally, add the marinara sauce to the pan, stir well to combine, then lower the heat to a gentle simmer. Cover the pot and allow the steam to open up the clams.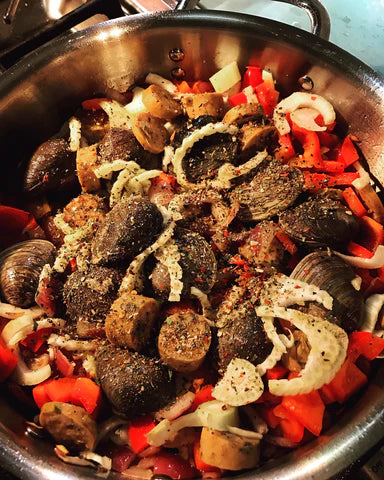 3
Continue cooking your dish over low heat, until all your clams are open. At this point remove the cover, turn the heat back up to medium, and allow the broth to reduce for about two minutes, concentrating all that delicious flavor.
4
Remove from heat and divide into two large bowls, serve with your desired side. Again, just eat the bread. It's wonderful. Enjoy!