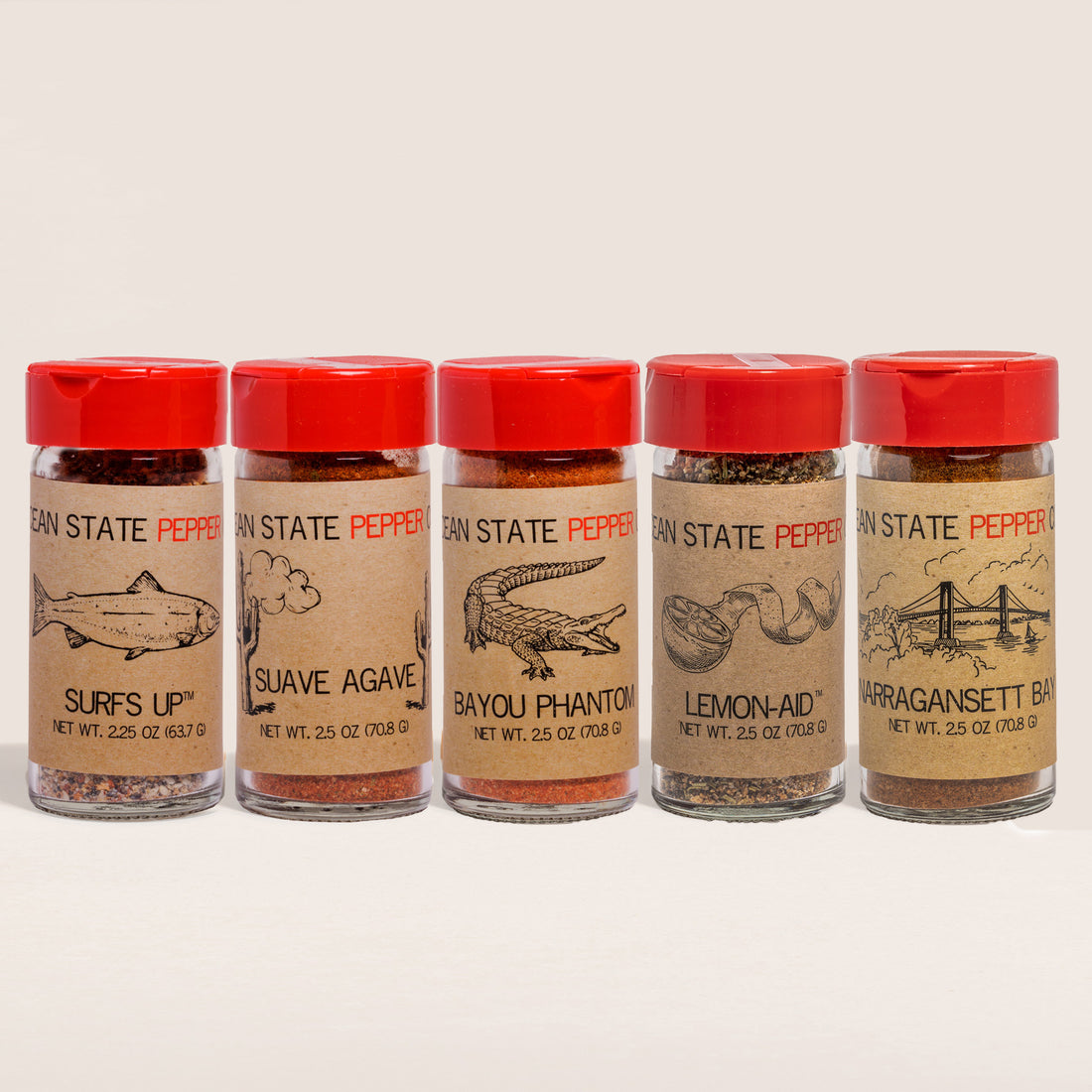 An Ocean of Flavors
Introducing the OSPC Seafood Lover's seasoning gift set featuring our favorite selection of seasonings for all things seafood. From freshwater to saltwater, we have you covered with all the flavors! Packaged in a branded OSPC box, this is a quick and easy gift for the seafood fanatic in your life. Heck, grab two... it's always nice to reward yourself. Check out the direct links below to learn more about each product included.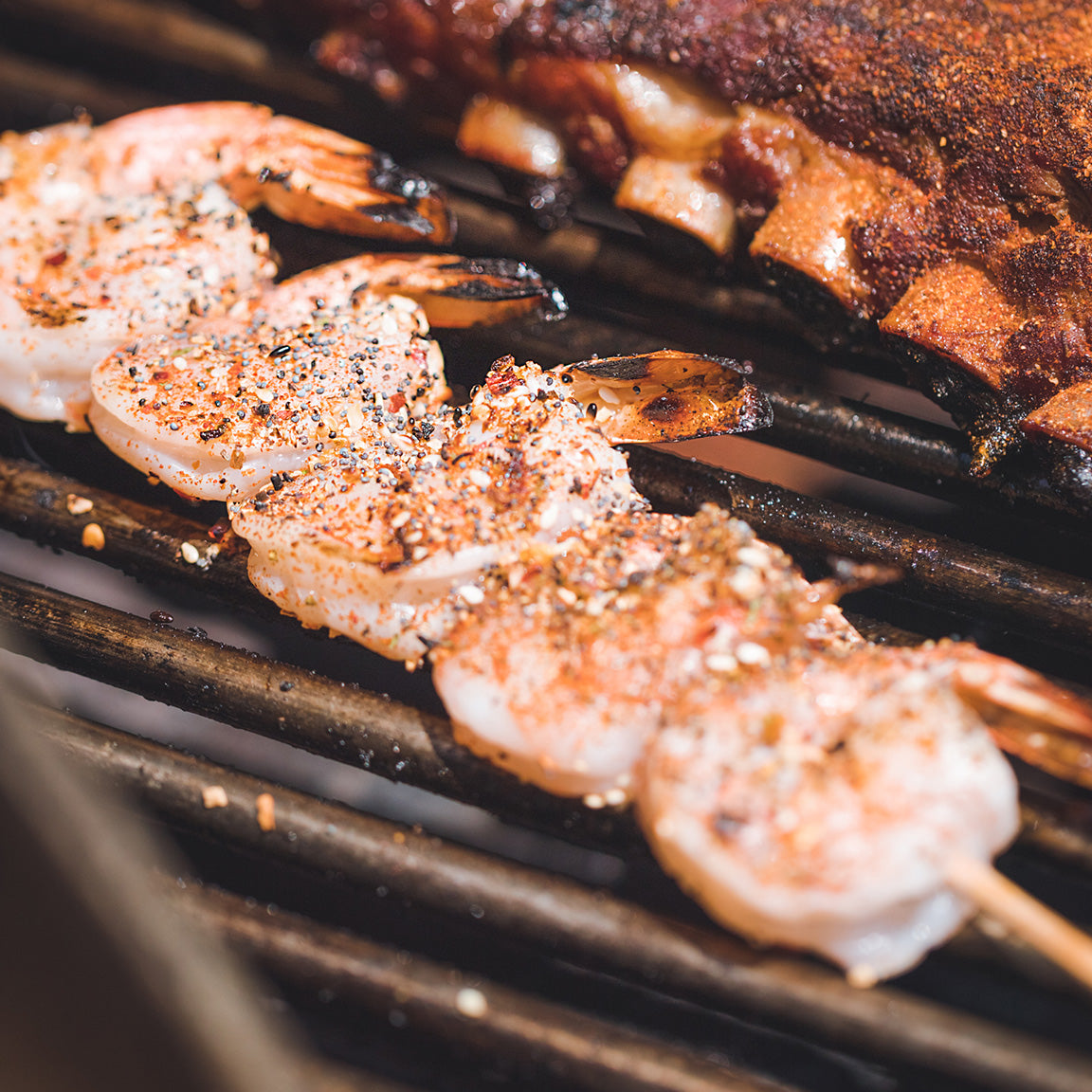 Reel in some taste.
A quick and easy way to shake up all your seafood. Want savory? Check out Surfs up. Looking for heat? Try some blackened salmon with Bayou Phantom. Not sure what you're in the mood for? Lemon-aid to the rescue, with a bright lemon flavor that will elevate dinner with ease. Whatever you choose, you can't go wrong with this curated selection of seafood-friendly flavors.
Ingredients & Details:
Obviously! Lemon juice powder, lime zest, and orange zest are blended with roasted sesame seed, chili flakes, garlic, poppy, and agave.  Roasted nori seaweed gives this seafood blend a savory flavor reminiscent of the Ocean State.
Ingredients: Black pepper, orange peel, lime peel, chili flakes, minced garlic, seaweed, poppy seed, sesame seed, lemon juice powder, sea salt, ginger
Our take on a classic, with a wicked accent. A kick of freshly blended cayenne peppers along with celery salt, and aromatic spices like nutmeg, allspice, ginger, and cloves, gives you everything to take on your next culinary adventure.
Ingredients: Celery salt, paprika, black pepper, cayenne pepper, mustard powder, ginger, clove, cardamom, nutmeg, allspice
Coriander, lime zest, orange zest, and cumin are blended with our signature chili powder...a harmonious blend of smoked paprika, ancho, guajillo, and aji amarillo chili powder. Agave powder and honey highlight the rich flavors, then we finished off the mix with plenty of garlic, ground black pepper, and sea salt. 
Ingredients: Asta 120 paprika, aji amarillo, guajillo chile, ancho chile, smoked paprika, black pepper, granulated garlic, granulated onion, cilantro, coriander, oregano, lime peel, orange peel, cumin, sea salt, honey powder, agave inulin powder
A bright and citrusy all-purpose blend with just the right amount of heat from powdered jalapenos, blended with sweet honey powder and tangy lemon juice to balance out the entire experience.
Ingredients: Black pepper, granulated onion, lemon peel, honey powder, sugar, sea salt, granulated garlic, lemon juice powder, jalapeno pepper, rosemary, ASTA 120 paprika.
Our take on creole cooking brings the heat with the intense flavor of the ghost chili, rounded out with pecan smoked sea salt, sweet paprika, and choice herbs which finishes this delicious Cajun seasoning.
Ingredients: Asta 120 paprika, sea salt, granulated garlic, black pepper, granulated onion, thyme, oregano, sage, ghost pepper
Taste the OSPC Difference
Sustainable packaging.
Refillable glass jars help keep plastic out of our landfills and oceans.
Make It Rain
Low in salt, and full of flavor...go ahead and pour it on.
Allergen Friendly.
Seasonings with clean and creative flavors for everyone.
Rapid results.
Saving on time and never having to sacrifice flavor, that's a win.