Homemade Sourdough Starter Crackers
We all know sourdough starters are the new hip thing so here's something different you can do with it. We hope you enjoy!
Ingredients:
1 cup unfed sourdough starter
½ cup all-purpose flour
3 TBS Mac Daddy Cheese Sauce Mix
4 TBS salted butter
1 egg
½ teaspoon U Wanna Pizza Me?
¼ teaspoon pepper
TOOLS
Baking sheet
Parchment paper
Rolling pin
Medium mixing bowl
Small mixing bowl
Mixing utensils
Pastry brush
Pizza cutter
Prepration:
1
Preheat your oven to 425. Melt the butter. Make it easy on yourself – microwave for 25 seconds, stir, and microwave a bit more if needed. Stir together flour, sourdough starter and butter in your mixing bowl. We usually use a plastic spoon or spatula as the dough will probably stick to a wooden spoon. Starter can be unfed or ripe. The longer it has gone without being fed, the tangier your crackers will be – user preference! Don't have a starter? Make your ownhere! Add in 3 tablespoons of the Mac Daddy Cheese Sauce Mix. We have experimented with 2 Tbs (definitely not enough) as well as 4 Tbs (sometimes perfect depending on the day!) – all depends on the cheese level you are going for. The dough will be sticky – this is perfect.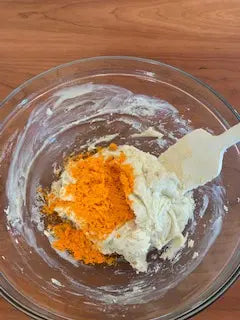 2
Take roughly half of the dough and put it in the middle of a sheet of parchment paper. The baking sheet we use is 14" x 16" and half fits perfectly – if your sheet is smaller, go with a smaller amount. Use a second sheet of parchment paper and grab your rolling pin. Because of how sticky the dough is, the parchment paper allows us to roll out our crackers as thin as we want. (We tend to like ours on the thin side!) Make sure that there is an even layer of dough across the parchment paper, so the crackers cook evenly.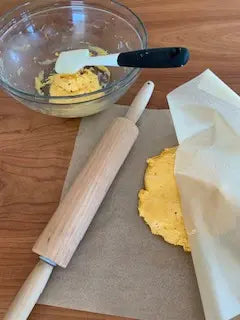 3
If you are a perfectionist like us, turn over the sheets so the bottom side is now facing up. Slowly peel off the parchment, replace and roll out again. This insures there are no creases in the dough. (Again, this is a symptom of being a perfectionist – this is an unnecessary step – feel free to skip!)
4
Slowly remove the top layer of parchment paper, keeping the dough on the bottom layer. In a small bowl beat your egg. Use the pastry brush to wash a small layer of egg to the dough. We have tried using an egg white or milk, and find that a full egg works best – you can always experiment to see what you like best! Sprinkle U Wanna Pizza Me? to the egg washed dough. Certainly user preference – we tend to use this spice on almost everything!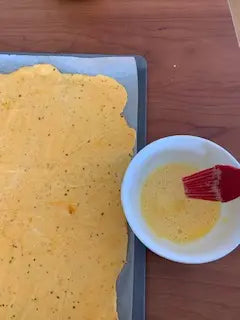 5
Using a pizza cutter (or just a sharp knife), cut the crackers to the size of your preference. Transfer dough on parchment paper to the baking sheet. Bake for 15-18 minutes as ovens may vary. Crackers should be hard, and you may want to remove the edge pieces and continue baking the middle for a few minutes. Please beware – a few more minutes goes a long way! Because of how thin the dough is, these can be quick to burn.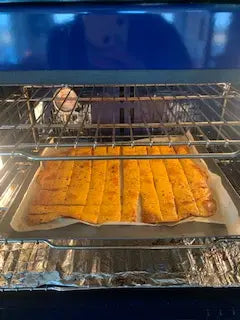 6
Once cool, break apart and enjoy!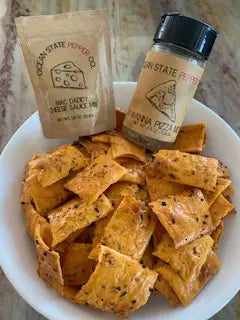 7
There are many variations you can try with your favorite Ocean State Pepper products. Another favorite of ours is substituting the Mac Daddy Cheese Sauce Mix with Cow-Abunga (2Tbs) or U Wanna Pizza Me? (3Tbs) for a non-cheese option. You really can't go wrong! Tag us and let us know how it goes!
8
Blog courtesy of Tara Lano. Want to contribute to our blog? Shoot us an email and tell us what you are cooking.