Sometimes you just need some delicious homemade salsa to go on top of your tacos, fajitas or just dip some chips into. Well, whatever you need it for, this salsa won't disappoint.
Ingredients:
6 Tomatillos
3 Jalapenos
1/2 Vidalia onion
1/2 bunch cilantro chopped
1 1/2 tbl suave agave
1/2 tsp sea salt
2 Limes
2 tbl olive oil
Directions:
1
Remove the outer husk of the tomatillos and slice in half. Remove the stems from the jalapenos and slice vertically. 
2
In a medium mixing bowl combine all the vegetables, putting the cilantro aside for later. Season with Suave Agave and sea salt. Toss well to combine.
3
Pre-heat grill. When grill is hot, char all sides of the vegetables over the direct flame until well roasted. Remove from grill and allow to cool in the bowl for a few minutes.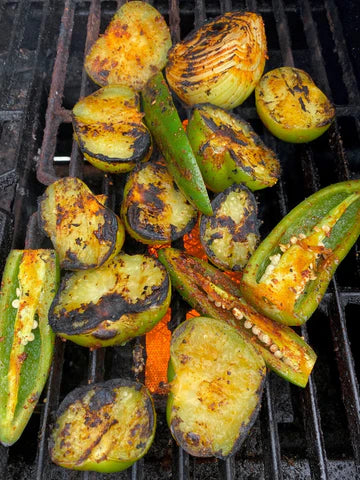 4
Add all the vegetables to a food processor and pulse until pureed to your desired thickness. 
5
Add juice of two limes to your salsa. Finely chop your cilantro and add for final touch. You can enjoy warm or refrigerate until needed.