Homemade Everything Bagels
Who doesn't love an everything bagel? Here's a super easy recipe from our local recipe developer Kim. Check her out on Instagram @littlehouseintheforest. 
Makes 8
What you need:
2 cups bread flour 
4 tsp baking powder
1/2 tsp salt
1.5 cups plain greek yogurt 
Topping:
1
Ocean State Pepper Co. 'THE WORKS'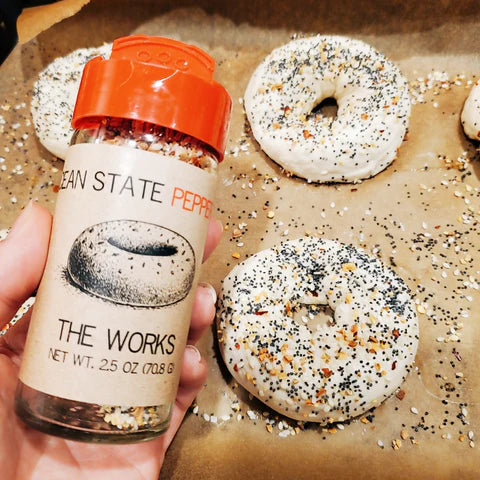 2
Egg wash:
1 tsp water
1 egg white
3
Directions: 
Heat oven to 375 F. Prepare 3 rimmed baking sheets with parchment paper. Combine flour, baking powder and salt in bowl with whisk. Add yogurt and mix with wooden spoon until dough like consistency is formed. If too dry add 1 tsp water to form dough together (may need to do this 1 or 2 x). Knead dough for 10 minutes with hands on lightly floured surface, adding only a little flour if needed to avoid a too sticky dough. Shape into a flattened ball and cut into 8 triangles. Roll each triangle into a snake and press ends together to form a bagel shape. Do this with all 8 triangles and place bagels on parchment paper. Mix egg wash ingredients together and brush tops of bagels with wash. Sprinkle a generous amount of 'THE WORKS' on each bagel. Bake for about 25 minutes or until bagels are cooked through and looking good on bottom and top! Let cool for at least 20 minutes before serving. They keep for 2 days in a sealed container.