We love pulled pork because it's is such a versatile option...sandwiches, tacos, chili and even pizza! Here's a great pizza recipe by Kim. Find her on Instagram @littlehouseintheforest.
Ingredients:
(For quick pizza dough)
1.5 cups hot water
2 tsp active dry yeast
1 TBS honey
3.5 cups bread flour (although I also love jovial foods all purpose einkorn flour or a 50/50 mix of both einkorn and bread flour)
1 tsp salt
(For toppings)
12 oz favorite tomato sauce, divided 
2 (8oz) shredded cheddar cheese, divided
1/2 red onion, sliced and divided
1/2 red bell pepper, sliced and divided
1 cup pulled pork, divided
4 scallions, chopped and divided
16 shakes ocean state pepper co. hog heaven divided
Olive oil
Directions :
1
Heat oven to 525 degrees F.
2
In a large bowl add hot water, active dry yeast and honey. Give it a good stir with a whisk to combine and let sit for 10 min. Will become frothy. 
3
Add flour and salt and stir with wooden spoon until it comes together. Then start to mix with your hands. If you find dough to be too sticky add a little flour to get a nice non sticky consistency. Turn the dough out onto a lightly floured surface and begin to knead. Knead for 4 minutes. Form into a ball and let rest for 10 minutes.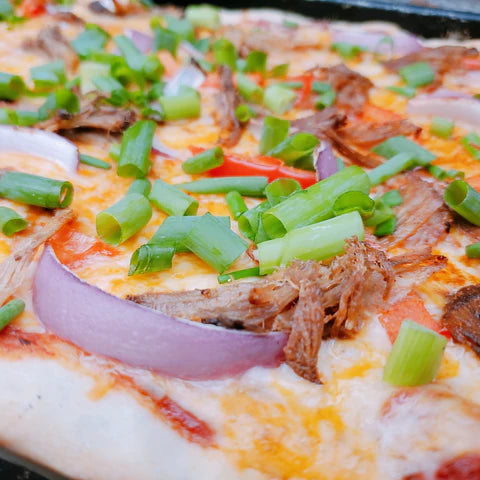 4
Drizzle a little olive oil onto 2 rimmed baking sheets to coat bottom. Cut dough half and spread each half into the baking sheet using your hands (palms and fingers), forming into a rectangle by pushing and spreading the dough. Bake in oven until bottom is golden brown, rotating pizza. Remove. 
5
Spread sauce over the top of each pizza, then shredded cheese, onions, peppers and pulled pork. Then give 8 shakes (or more🐽) of hog heaven over pizza.
6
Bake until pizza looks good to you, rotating pizzas as needed. I check bottom with a spatula (we love crispy pizza so we get ours extra golden on bottom).
7
Take pizzas out and top with the scallions. Slice and serve immediately!